When to go to Sri Lanka: find the best time for your visit this Asian gem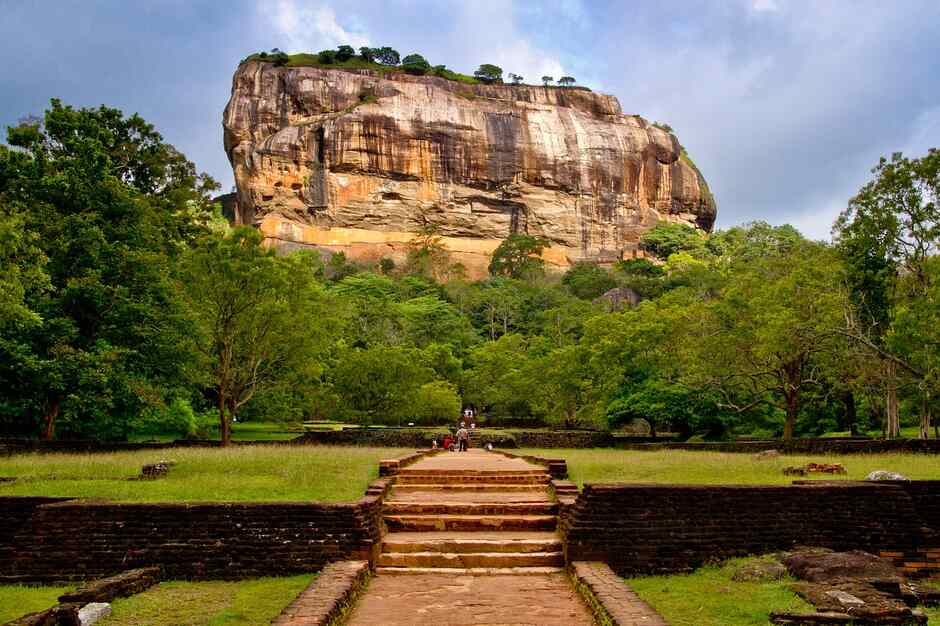 Sri Lanka, a beautiful island nation located in the Indian Ocean, captivates visitors with its stunning landscapes, rich cultural heritage, and warm hospitality. From pristine golden beaches and lush tea plantations to ancient temples and historical sites, Sri Lanka offers a diverse range of experiences. The country is renowned for its wildlife, including elephants and leopards, and its flavorful cuisine influenced by various cultures. With a fascinating blend of vibrant cities, tranquil villages, and breathtaking natural wonders, Sri Lanka is a paradise for adventurers, nature enthusiasts, and those seeking a unique cultural immersion.
When is the best time to visit Sri Lanka?
One of the advantages of visiting Sri Lanka is that it is always a good time to go! The tropical climate maintains temperatures between 27°C and 32°C in coastal regions, while higher mountainous areas remain around 20°C.
Sri Lanka experiences two monsoon seasons, causing weather variations across the island:
- April, September to November: These months offer favorable weather throughout the country, making it ideal for exploring different areas.
- December to March: This period brings dry weather to the highlands, southern and western parts of the island. It is the perfect time to visit cities like Colombo, Galle, Kandy, Nuwara Eliya, Yala National Park, and the southern coast beaches such as Tangalle, Mirissa (known for whale watching), Unawatuna, Hikkaduwa, and Bentota.
- May to August: During these months, the monsoon affects the southern and western regions. It is advisable to travel to the northern and eastern parts of the island, including Anuradhapura and the northern beaches like Trincomalee.
We highly recommend including a visit to the Highlands of Sri Lanka in your itinerary and experiencing the famous scenic train ride. It allows you to enjoy the lush green tea plantations and the natural beauty of areas formerly ruled by the English colonizers. This is an experience we offer among our many Sri Lanka travel packages.
Do I need vaccinations before traveling to Sri Lanka?
While vaccinations are not mandatory, health authorities recommend getting vaccinated against tetanus, hepatitis A, and malaria. Consult with your doctor to determine the vaccines you should consider.
Cities to Visit in Sri Lanka
Colombo: The commercial capital of Sri Lanka is a vibrant city with a mix of modern hotels, office buildings, and elegant colonial houses from the British era. Explore bustling street markets like Pettah, admire architectural gems like Jami Ul-Alfar Mosque, take leisurely walks along Galle Face Green, or visit famous temples like Gangaramaya.
Galle: Located in the southern part of the island, Galle is an ancient colonial city renowned for its impressive fortification, a result of Dutch and Portuguese influence. Highlights include the fort walls, cobblestone streets with colonial buildings, the picturesque lighthouse overlooking the sea, historic churches like Groote Kerk, museums, and Sri Lanka's oldest cricket stadiums.
Mirissa: A small coastal town in Ceylon, has gained popularity among travelers for its prime location for whale and dolphin watching. The allure of its golden sandy beaches and turquoise waters will mesmerize you, making it difficult to leave.
Kandy: The capital of the Highlands, is an essential destination on your Sri Lanka trip. Nestled amidst hills, it offers stunning tea plantations. Besides being a significant Buddhist sacred site housing the Temple of the Tooth Relic, the city offers other attractions such as the picturesque lake, tea plantation visits, a magnificent botanical garden, a towering Buddha statue, and the grand Kandy Esala Perahera festival.
Nuwara Eliya: It is also known as "Little England" for its British colonial-style architecture, is surrounded by vast tea fields. It's an ideal place to witness the work of Sri Lanka's tea pickers. The city highlights include the post office, Victoria Park, Gregory Lake, and the central market. A visit to the Seetha Amman Temple, associated with Hindu mythology, is also worthwhile.
Ella: Situated in the highlands, is beloved by travelers for its tea-covered hills. Its fame lies in the train journey from Kandy to Ella, renowned as one of the world's most breathtaking and photographed train rides. While not known for monuments or temples, Ella captivates with its natural beauty, offering excellent hiking opportunities like climbing Ella Rock and Little Adam's Peak.
Dambulla: The main attraction is the Royal Rock Temple, an enormous rock with five caves adorned with Buddha statues, stupas, and paintings depicting Buddha's life. At the rock's summit stands a grand golden temple housing a 30-meter-tall Buddha image. Dambulla serves as a convenient base for visiting nearby places like Sigiriya, Anuradhapura, Polonnaruwa, and Minneriya National Park.
Sigiriya: Sigiriya is home to Sri Lanka's main tourist attraction—an immense rock with lion claws that once served as a residence for an ancient Sri Lankan king. This UNESCO World Heritage Site since 1982 is a must-visit. Nearby, Pidurangala offers additional sites of interest.
Polonnaruwa: Along with Anuradhapura and Sigiriya, forms Sri Lanka's famous Cultural Triangle. This well-preserved ancient city, a UNESCO World Heritage Site since 1982, showcases the grandeur of its past as the country's capital in the 10th century. Nearby, Kaudulla and Minneriya National Parks await exploration.
Anuradhapura: The former capital of Sri Lanka, completes the Cultural Triangle and holds UNESCO World Heritage Site status since 1982. Its vast archaeological site boasts spiritual centers, monasteries, ancient temples, and impressive sculptures. The city also houses a significant museum within a dagoba.
Trincomalee: Located in the northeast, offers tranquil white sandy beaches and palm trees, relatively untouched by tourism due to the previous civil war. Besides enjoying the pristine coastline, visitors can explore cultural sites like Koneswaram and Sri Laxmi Narayana Perumal Hindu temples, the gothic Saint Mary's Cathedral, and the historic Kanniya Hot Springs.
Jaffna: A lesser-visited area still recovering from the civil war, provides a glimpse into the Tamil culture that dominates the region. Explore the fishing port, the recently reconstructed fort, and the scenic promenade. Hindu temples like Nallur Kandaswamy Kovil and nearby islands such as Velanai, Punkudutivu, and Nainativu offer further exploration opportunities.
Similar to other parts of the island, environmental care and cleanliness were lacking. Recycling culture, awareness, and waste reduction policies were virtually non-existent. As we explore beaches worldwide, we increasingly recognize that we have transformed the ocean into a dumping ground, emphasizing the urgent need to address this issue. As part of our daily routine, we started collecting and disposing of plastic and garbage in the scarcely visible and concealed trash bins.
The shoreline in Sri Lanka can be quite rough, with strong currents, and swimming is not highly recommended, especially for children. To find a relatively safer area for swimming, we sought out a location where a breakwater was installed a few meters from the coast. This particular spot had experienced significant impact during the 2004 tsunami.
Do I need a visa for Sri Lanka?
Yes, a 30-day electronic tourist visa is required, costing $35. The visa application can be completed easily and quickly on the official Sri Lanka visa website. Ensure your passport is valid for at least 6 months from the arrival date in Sri Lanka.
Before your journey to the former Ceylon, it is essential to obtain the Electronic Travel Authorization (ETA), a mandatory authorization for acquiring the visa. Although it is possible to request it upon arrival at the airport, it is recommended to complete the process a few months before your flight to avoid any complications or potential entry denial after a long trip.
Are You Planning to Travel and Go for a Vacation?
Please click here to get the complete details on available trips, itineraries, accommodation, cost, visa , vaccination, airport arrival and the rest of it. »