A Complete Guide to Travel Mykonos in Greece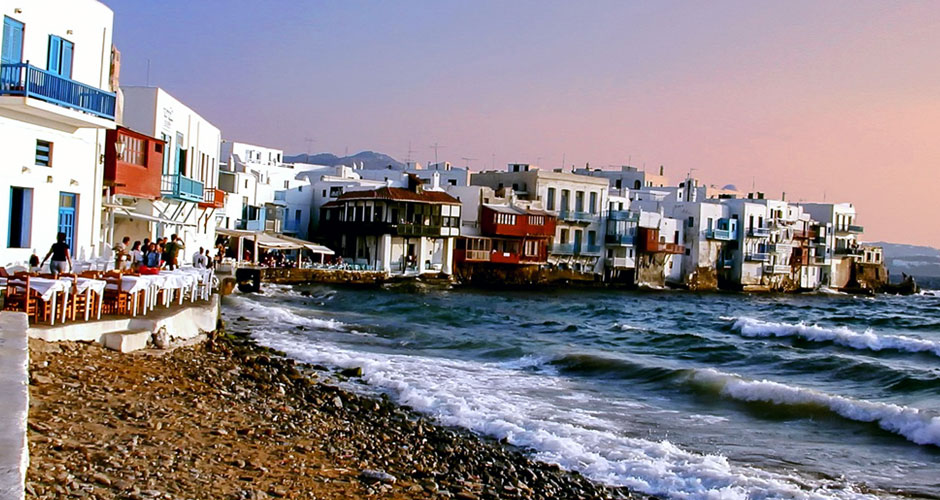 Mykonos is one of the many islands that make up the Cyclades archipelago. It is the most popular of them, no doubt. It welcomes up to about 1 million visitors during the summer period (before the health crisis). Even if the prices of this tiny island are not always within everyone's reach, its 85.5 km² of surface area and its 89 km of coastline offer a breathtaking postcard setting. This attracts tourists from all over the world, who continue to flock to this island on the edge of the Aegean Sea. So, if you are looking for an idyllic place for your vacation, check out this Mykonos travel guide.
Mykonos has a lot to offer for travellers who want to experience its beauty and culture. You can visit the Church of Panagia Paraportiani, one of the most photographed churches in Greece, which consists of five small chapels built on top of each other. You can also explore the Aegean Maritime Museum, which displays models of ships, nautical instruments, and historical maps. If you prefer to relax on the beach, you can choose from many options, such as Kalo Livadi Beach, which has golden sand and clear water, or Agrari Beach, which is quieter and more secluded. You can also enjoy the nightlife of Mykonos, which is famous for its clubs and bars.
1. Introduction to Mykonos
Everyone has heard of the island of Mykonos in the Cyclades, the most famous island in the Aegean Sea and the most popular destination for holidays in Greece and around the world, for travellers of all types. Since 1960, it has attracted wealthy Athenians and international celebrities like a magnet for its wild parties.
2. The Charm of Mykonos
Known for its minimalist Cycladic architecture, Mykonos is full of traditional whitewashed houses and blue-domed churches. The traditional windmills located in front of Little Venice are the signature of the island, where one can enjoy magical sunsets and admire the colourful lights that flood Chora (the main town). A pure happiness!
3. Cosmopolitan Atmosphere and Nightlife
Located in the heart of the Cyclades, Mykonos is one of the most famous Greek islands for its cosmopolitan atmosphere and its nightlife! No wonder it is widely known as the Ibiza of Greece! Your stay on the island will be an unforgettable experience and there are so many amazing things to do.
4. Beaches of Mykonos
Admire stunning sunsets from Little Venice, stroll the cobbled streets of Chora, enjoy a stay in a luxury hotel, dance at an epic beach party, and swim at an exotic beach. When the sun goes down, join the island's nightlife with a night of fun at legendary dance clubs! Moreover, it is the most popular LGBTQ+ destination in Greece.
5. Chora: The Entertainment Hub
The main town of Chora is the entertainment center of the island! Award-winning restaurants, designer boutiques, trendy bars, and renowned clubs guarantee an unforgettable holiday experience in Greece!
6. When is the best time to visit Mykonos?
Mykonos is a popular destination for visitors from around the world, but choosing the right time to visit the island is important due to crowds and high prices during the most popular months. The best months to visit Mykonos are spring and late autumn, especially late May and late September to early October. This period is considered off-peak season, but hotels, beach clubs, restaurants, etc. remain open and the temperatures are pleasant. May and September also offer the opportunity to visit the beautiful beaches, the famous windmills, and the Archaeological Museum of Mykonos without the summer crowds. Hotel rates are also lower, and it's easier to book restaurants without a reservation. It should be noted that temperatures can be hot during the day and cool in the evening. It is also important to protect yourself from the sun as it is very strong in Mykonos due to its proximity to the Cyclades islands.
Is July and August a good time to visit Mykonos?
Mykonos is famous for its summers and if you like spending a lot of time at the beach and doing activities, you are going to enjoy this season. This is the best time to visit if you like warmer weather, water sports, and amazing nightlife.
However, the downsides of this time are large crowds, high hotel and attraction prices, difficulty in getting reservations, and traffic jams in the island's narrow streets. Finding a quiet place to relax on beaches can also be difficult, and some popular beaches can be restricted due to overcrowding. Also remember that summer temperatures can be high, so it is important to protect yourself from the sun.
7. Mykonos: A Gay-Friendly Destination
Mykonos is a Greek island that welcomes travellers with its tolerant and lively atmosphere. It has many gay-friendly hotels, bars, and clubs, especially around the old port and Little Venice. It also has historical and cultural attractions, such as the Church of Panagia Paraportiani and the Aegean Maritime Museum. Mykonos is a place to enjoy the sun, the sea, and freedom
What comes to your mind when you think of a holiday in Mykonos?
Luxurious hotels in Mykonos, starred restaurants, a cosmopolitan atmosphere, a crazy party scene, incredible beaches, We could go on forever! Mykonos is the popular gay-friendly destination par excellence!
8. The Highlights of Mykonos
First of all, the locals are very friendly. The island has about 10,000 inhabitants, spread in a dozen locations (Chora, Kalafati, Ano Mera, Ftelia, Ornos, Tourlos, Panormos, etc). The food is very yummy. The "Little Venice" as it is called lets you enjoy the small pleasures of delicious Greek cuisine while watching the sunsets. The beaches are amazing, some of the best there are. Finally, party lovers are not disappointed because the nights are very lively in the best clubs and in the hottest spots on the island.
9. Getting to Mykonos
Mykonos is a Greek island located in the Aegean Sea in the Cyclades archipelago, 153 km southeast of Athens, 110 km north of Santorini, 225 km north of Crete, and 125 km southwest of Cesme (Izmir-Turkey).
How to get to Mykonos?
The easiest way to get to Mykonos from France is to take a direct flight from Paris to Mykonos, which takes 3 hours and 20 minutes. The airlines that offer the direct service are Transavia, Air France, Easy Jet.
Otherwise, since Mykonos is one of the most popular tourist destinations in the world, it is quite simple to get to Mykonos from Athens or other Greek islands. There are ferries from Piraeus and Rafina, the two biggest ports in Athens, to Mykonos. These ferries also link Mykonos with other islands, such as Santorini, Naxos, Paros, Syros, Crete, etc.
Where to Stay in Mykonos for Nightlife?
Paradise Beach
Paradise Beach is a famous spot in Mykonos for its lively beach life, with many bars, restaurants, and wild parties. It is in the south of Mykonos, where the Aegean and Mediterranean seas meet in a blue cove. The beach started to attract bohemian travellers in the 1960s, and since then it has become a party hotspot, with well-known beach clubs like Tropicana, Cava Paradiso, and Paradise. The beach is very busy in the summer, with loud music all day long, and it becomes a nightclub around 4 p.m. Paradise is where people who want to have fun with friends stay in Mykonos.
Where to Stay in Mykonos for Beach Lovers?
Ornos
One of the best activities in Mykonos is to enjoy a day at the beach. But if you want more than one beach and lots of water fun, Ornos is the place for you. This part of Mykonos has two beaches: Korfos beach to the north, which is windy, and Ornos beach to the south, which has sunbeds and restaurants by the sea. You can do many things here, from kitesurfing to swimming in shallow waters, or taking a cruise along the south coast. It's a great way to cool off.

What is the price for hotels in Mykonos?
Mykonos is the star of the Greek islands with its hotels that have amazing private pools, whether they are luxury, cheap, or boutique, villas, or apartments. If you are worried about going over your budget, we have written an article on the cost of a trip to Mykonos, which covers the price of hotels on the island.
Mykonos is a fairly pricey island when it comes to hotels, but you can still find accommodation with reasonable prices. We recommend that you book hotel rooms 3 or 4 months in advance to get a good price; Mykonos and its hotels are very costly in summer.
Cheap hotels in Mykonos
Do you want to spend a holiday on the island of Mykonos, but your budget is limited? Therefore, you want to avoid luxury hotels and you want to stay in budget and cheap hotels in Mykonos.
The best luxury hotels in Mykonos
Mykonos is the dream island if you want to spend a dream vacation in incredible hotel rooms, full of luxury, with infinity pools. We have an article that offers you the best luxury hotels in Mykonos, including 5-star hotels, boutique hotels, and hotels with infinity pools, breathtaking views. There are fantastic hotels in Mykonos and the best luxury hotels in Mykonos are basically boutique hotels, small private hotels. Mykonos hotels are amazing and charming. There are no large, impersonal chain hotels on Mykonos. There are no all-inclusive hotels or mega-hotels. resorts in Mykonos.
10. Transport in Mykonos: How to Get Around the Island?
You are in Mykonos, but how do you travel around the island? How do you go from one village to another? The roads are good, but they are very crowded in summer, so be careful. You can use buses that connect different towns on the island; or you can use local taxis or even Ubers.
Mykonos Car Hire
How to get a car in Mykonos? What kinds of cars can you rent?
You can pick up and rent a car at Mykonos Airport, Chora, Ano Mera, or Glastros. Getting a car in Mykonos is a good way to explore the whole island, as buses don't reach all places, and Mykonos taxis are scarce. Renting a car makes it easy to do about half of the best activities in Mykonos. Make a reservation for car rental in Mykonos.
Conclusion
To sum up, Mykonos is a popular destination for travellers from all over the world. It is important to plan your trip ahead of time to avoid crowds and high prices during the busy summer season. The best times to visit Mykonos are spring and autumn, with nice weather, more sunshine, and less tourists. After visiting Mykonos, you can understand why this small island is so popular with travellers. I hope this list of things to do in Mykonos helps you enjoy your time in the Cyclades.
Are You Planning to Travel and Go for a Vacation?
Please click here to get the complete details on available trips, itineraries, accommodation, cost, visa , vaccination, airport arrival and the rest of it. »