8 of the best things to do in Kathmandu as a meditation lover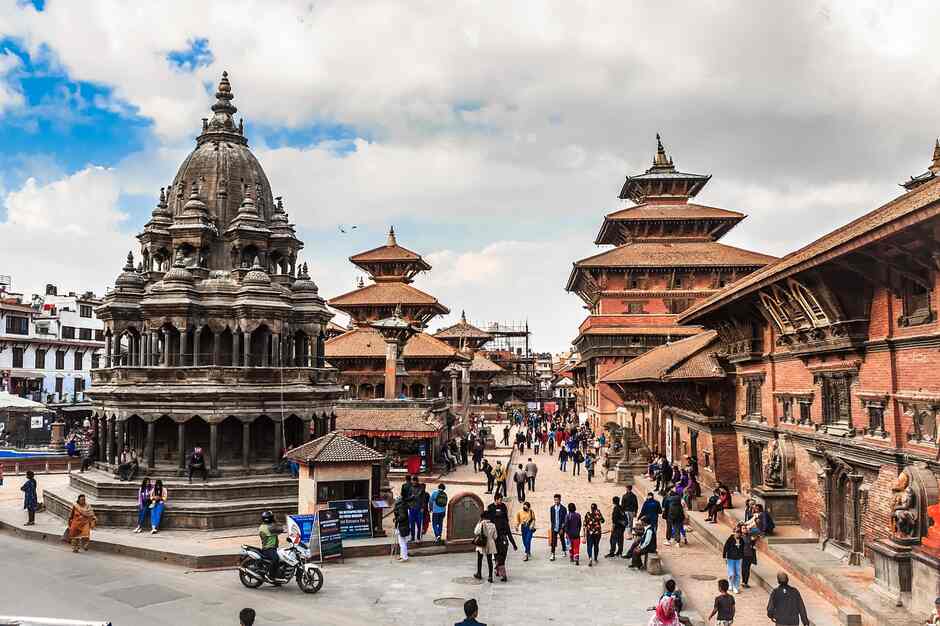 Nepal, known as the Tibetan country, surprises with its awe-inspiring Himalayan peaks, golden temples, austere spirituality, and rich cultural heritage. While trekking, prayer flags, and high-altitude temples are synonymous with Nepal, there is much more to explore beyond these experiences. Today, we want to highlight one of our favorite gems in Nepal: the Kathmandu Valley.
The Kathmandu Valley is a must-visit destination in Nepal, where historic cities converge, showcasing a unique beauty through their cultural buildings, palaces, and temples. In this valley, you can find seven UNESCO World Heritage Sites scattered across Kathmandu, Bhaktapur, and Patan.
Situated at an altitude of over 1400 meters, Kathmandu stands as the pulsating heart of Nepal, serving as its capital and also referred to as the Capital of Heaven or the home of the "eight-thousanders." Surrounded by the magnificent Himalayas, this city possesses a special charm, despite being perceived as dirty and chaotic by some travelers. Being the gateway to eight of the world's twelve highest mountains, Kathmandu holds magical secrets waiting to be discovered.
What to explore in Kathmandu
Kathmandu, the ancient city, holds a mythical allure and embodies the spirit of adventure. Since the 1960s, it has attracted global adventurers and hippies who were captivated by its unique culture, spirituality, and the warm hospitality of the Nepalese people. Over time, it has become a starting point for exploring Nepal and Tibet, allowing travelers to witness the grandeur of the Himalayan peaks. Despite its growth, Kathmandu has managed to preserve its appeal and essence. In this article, we will uncover the highlights of what to see in Kathmandu within a day, but we recommend staying a couple of nights to fully enjoy the city in a more tranquil manner.
Many of you will recall the devastating earthquake in 2015 that ravaged Kathmandu, causing extensive damage to its buildings, including irreplaceable centuries-old monuments. However, through the collective efforts of humanitarian organizations, support from various countries, and the dedication of numerous volunteers, Kathmandu has gradually recovered. Most of its precious treasures are once again shining brightly, inviting visitors to witness their splendor. This also presents an opportune time to visit Nepal, contributing in some way to the ongoing restoration efforts while exploring the country's wonders. Kathmandu has some of the most colorful shops you have ever seen in your life. These shops sell brightly colored outfits, finely crafted costume jewelry, stunning home decor such as paper lanterns, thangka paintings, wooden boxes, bronze statues, local musical instruments, and many books.
Here are some of the best things to do in Kathmandu
Visit UNESCO World Heritage Sites:

Kathmandu is home to several UNESCO World Heritage Sites, including Pashupatinath Temple, Boudhanath Stupa, Swayambhunath Temple, and Kathmandu Durbar Square. Explore these cultural and historical landmarks to learn about Nepal's rich heritage.

Explore Durbar Squares:

Kathmandu Valley has three Durbar Squares, namely Kathmandu Durbar Square, Patan Durbar Square, and Bhaktapur Durbar Square. These ancient royal squares are filled with palaces, temples, and intricate architecture that reflect Nepal's artistic and cultural heritage.

Visit Temples and Monasteries:

Kathmandu is known as the City of Temples, and there are numerous temples and monasteries to explore. Some popular ones include Pashupatinath Temple, Kopan Monastery, and Dakshinkali Temple. Experience the spirituality and religious practices of Nepal.

Wander around Thamel:

Thamel is a vibrant neighborhood in Kathmandu, famous for its bustling streets, shops, and restaurants. Enjoy shopping for souvenirs, try local cuisine, and experience the lively atmosphere of this tourist hub.

Experience the Colors of Ason Bazaar

: Ason Bazaar is a traditional market in Kathmandu known for its vibrant colors, spices, and local products. Take a stroll through the narrow streets, interact with locals, and immerse yourself in the bustling atmosphere.

Explore the Garden of Dreams:

This neo-classical garden in Kathmandu provides a peaceful retreat from the city's chaos. Relax amidst beautiful gardens, ponds, and pavilions, and enjoy the tranquility of this oasis.

Enjoy Panoramic Views from Nagarjun Hill:

Hike up Nagarjun Hill, located on the outskirts of Kathmandu, for breathtaking panoramic views of the city and the surrounding mountains. It's a great place to escape the city and connect with nature.

Try Nepali Cuisine:

Indulge in the flavors of Nepal by trying traditional Nepali cuisine. From momo (dumplings) to dal bhat (rice and lentil dish), there are plenty of delicious dishes to savor.
As a meditation lover, there are several activities and places in Kathmandu, Nepal, that can enrich your experience. Here are the best things you can do in Kathmandu
1. Experience Boudhanath Stupa: This magnificent stupa holds immense significance as one of Nepal's holiest Buddhist sites and serves as an idyllic location for meditation. You can take a meditative walk around the stupa while reciting mantras or simply sit in serene silence, immersing yourself in the tranquil ambiance.
2. Discover the monastic abodes: Kathmandu is home to a multitude of Buddhist monasteries and meditation centers. Embark on a journey to places like Kopan Monastery, Shechen Monastery, and Namo Buddha Monastery, where you can delve into meditation teachings and partake in spiritual retreats.
3. Immerse yourself in a meditation retreat: Beyond Kathmandu's borders, serene meditation centers and retreats await, offering programs of varying durations. These sanctuaries provide an environment of tranquility, fostering an intensive practice of meditation.
4. Engage in temple-based meditation classes: Numerous temples in Kathmandu offer meditation classes accessible to all. Join these sessions to learn diverse meditation techniques and engage in introspection within spiritually enriching surroundings.
5. Wander amidst temple gardens: The gardens surrounding temples like Swayambhunath (the Monkey Temple) and Pashupatinath exude a serene atmosphere, inviting meditation. Seek out peaceful corners amidst the lush greenery, where you can sit in contemplation.
6. Participate in mantra chanting ceremonies: Kathmandu's monasteries and Buddhist centers host captivating ceremonies of mantra chanting. These ceremonial gatherings involve the recitation of sacred mantras and devotional chants, offering a profound meditative experience.
7. Engage in meditative hikes: Venture to the outskirts of Kathmandu, where picturesque natural trails beckon you for meditative hikes. Walk at a leisurely pace, attentively observing each step, your breath, and the harmonious sounds of the surrounding nature.
8. Explore ashrams and yoga centers: Kathmandu presents an array of ashrams and yoga centers where you can embrace not only meditation but also yoga practices. Enroll in yoga classes, allowing yourself to delve into complementary meditation techniques.
Are You Planning to Travel and Go for a Vacation?
Please click here to get the complete details on available trips, itineraries, accommodation, cost, visa , vaccination, airport arrival and the rest of it. »