Rara Tour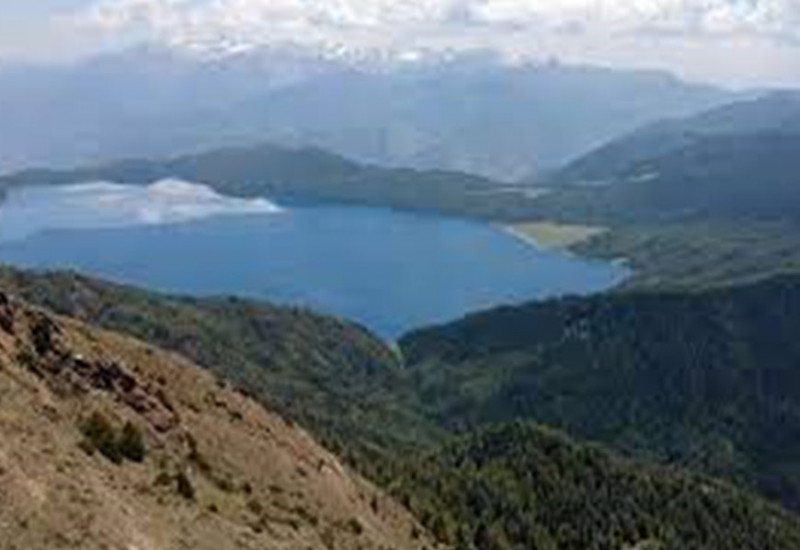 Rara Lake tour is one of the greatest places to spend your vacation in the midst of nature. The Lake region is a naturalist's dream for those looking for rare flora and creatures. It is Nepal's largest and most stunning deepest freshwater lake. The lake is a natural treasure in Nepal's hidden Himalayas. It is located in the heart of Rara National Park in Jumla and Mugu District; the oval-shaped blue lake is 2990 meters above sea level, has a depth of 167 meters, and is 5.1 kilometers long and 2.7 kilometers broad. The voyage ends on the banks of Mugu Karnali, Nepal's longest river, through the Nijal river.
One of those developing eco-tourism destinations in Nepal is the Rara Lake Jeep Tour, which is located away from the busy metropolitan centers in the region's center of cultural and natural resources. The lifestyle, environment, and culture that may be seen along the road are much different from those seen in the rest of Nepal. Beautiful views of the Himalayan Milky Summit summit combine with incredible beauty to captivate tourists and trekkers. There are many options to choose from. To get to the lake, you might need to go from Kathmandu to Nepalgunj to Talca and then engage in a couple of hours of hiking.

Day1 :
The first day of the Rara Lake tour begins with an early-morning beautiful drive from Kathmandu to Kohalpur. To go to Kohalpur, you will travel 605 kilometers in 12 hours, traveling through various landscapes, jungles, and villages. Your journey to the western portion of Nepal across the plain Terai low terrain and hilly areas begins in the Kathmandu valley, the country's capital city, and a hill. You will stop at hotels along the road for your breakfast and lunch. You will arrive at Kohalpur in the evening; the timing depends on the state of the road's traffic. Afternoon at the hotel.
Day 2:
On the second day, you will set off for Kalikot early in the morning after breakfast. It takes around 7-8 hours and travels roughly 150 miles. Getting to Kalikot. Your ride to Kalikot is scenic, passing through the Sal Forest and offering wonderful views of the surrounding hills, mountains, and greenery. On the route to your destination, you will eat lunch. Afternoon at the hotel.
Day 3:
Drive to Mathillo Mili Rara after breakfast. For breathtaking landscape, pass via Pandu Gufa and Sinja Valley. You will then arrive at Rara Taal after an about two and a half hour hike. You can view the Himalayan landscape, the enormous and serene Rara Lake, and the rich greenery of the Rara National Park from your route, which runs beside Chuchhemara Danda. Both the trip and the hike to Rara take nine hours. Dinner and a night's stay at Rara, right beside a stunning lake.
Day 4:
Breakfast is served early in the morning with stunning views of the lake and the Himalayas. You'll spend the day relaxing at Rara Lake today. You may take an optional trip like a trek around or go on an excursion where you can enjoy boating, shooting photographs, and many other things. At the hotel, meals will be offered for breakfast, lunch, and dinner. Let go and unwind.
Day 5:
Breakfast is served early in the morning with stunning views of the lake and the Himalayas. You'll spend the day relaxing at Rara Lake today. You may take an optional trip like a trek around or go on an excursion where you can enjoy boating, shooting photographs, and many other things. At the hotel, meals will be offered for breakfast, lunch, and dinner. Let go and unwind.
Day 6:
You explore Mugu and its surroundings all day long. You'll climb to the lovely Rara Lake to get a better look at the Himalayas and their emerald-white peaks. We also visit adjacent fresh and stunning locations. Then we explore the historic monasteries around Karnali and talk to the kind inhabitants.
Day 7:
Get up early and eat something substantial. After breakfast, you could have some free time to go sightseeing, unwind, or browse the gift stores in Rara. Later, the delightful excursion comes to an end as you return to Kathmandu while taking in the magnificent scenery of Rara Lake. You can explore Kathmandu on foot or unwind at your hotel. From Kathmandu, set off towards your hometown. You'll carry with you clear recollections of Rara's amazing splendor when you get home.

3 nights 4 days Package: US$250
Cost Includes
Accommodation (room and food)
Transportation
Guide
Weather of Rara

The ideal months to visit the Lake Jeep tour are March to mid-June and September to November. The weather is warm and pleasant at that time, most of the wildflowers are blossoming, the sky is clear, and she has filled up her attractiveness. During the summer season (mid-June to August), there is a lot of rain, and the water level in the rivers and streams rises. Most of the roads are unpaved. As a result, traveling in distant or steep locations is challenging. However, during the winter season, the temperature drops below 0 degrees, and snowfall happens on occasion. It is tough to get there by crossing snow-covered tunnels, yet many tourists desire to play in the snow.

Altitude of Rara
The primary attraction of the park is Rara Lake (Mahendra Tal), which is located at an elevation of 2990 meters. The lake has an east-west axis and an oval form, with a maximum length of 5 km and a width of 3 km. With a depth of 167 meters and surrounded by spectacular conifer trees, it is Nepal's largest lake (10.8 square kilometers).
Packing advice for Rara
Because the weather may change significantly from one season to the next, travelers should continually be aware of the season they are visiting. However, Nepal has had unexpected weather before, so be ready for anything. In order to assist you in packing everything you'll need for your trip to Nepal and guarantee that you won't run out of supplies, we've created a Nepal packing list based on our knowledge and recommendations from locals.

Cultural Advice for Rara
Most of the people that live there are from the indigenous tribes of the Magar, Tharu, and Bhote/Sherpa. Sherpa and Botes make up the majority of these tribes. They have a very dynamic culture. They follow a number of culinary, cultural, and holiday traditions. The principal sources of tourism in Rara are customs, traditions, historical sites, and cuisine. The hilly area is also well recognized for its unique steep farming culture.

Communication in Rara (phone, internet )
There are various ways to communicate when traveling. There should have been adequate warning for everyone to behave differently than they do at home. However, practically all hotels have internet connectivity up to a certain point. Depending on where you are, they charge different hourly prices. The entire country is covered by 4G services provided by Ncell and other Nepali telecom companies. Thanks to a number of ISPs, there is virtually everywhere Wi-Fi along the rest of the hill. Visit the websites of the ISPs to learn more. A number of the hotels and stores along the route offer usernames and passwords on their websites.

Money and Currency in Rara
It's normal to forget to factor in the cost of travel or excursions in the host country. The official currency of Nepal is the rupee, abbreviated as NPR. Spending local currency is advised when trekking in Nepal. Major cities like Kathmandu and Pokhara have a variety of banks and money exchanges where you may acquire them. Convert enough cash into rupees to last the duration of the journey. ATMs are available in Mugu as well, however, they are unreliable. Both sites take cash, however, the exchange rate is significantly worse than on KTM.

Health tips for travelers in Rara
In this situation, acute mountain sickness (AMS) is undoubtedly a risk. Anyone above 8000 feet will experience its effects, however, higher elevations frequently experience more severe ones. Ascending to altitudes that are more than twice as high as those at which AMS may occur, the Rara trip. Expect your guide to advise you to drink a lot of water as an additional AMS prevention measure. After you reach the upper elevations of the journey, you can frequently count on your guide to having a supply of oxygen on standby in case you need it. You might also want to bring some AMS medication with you to Rara, such as Diamox.