Pokhara Tours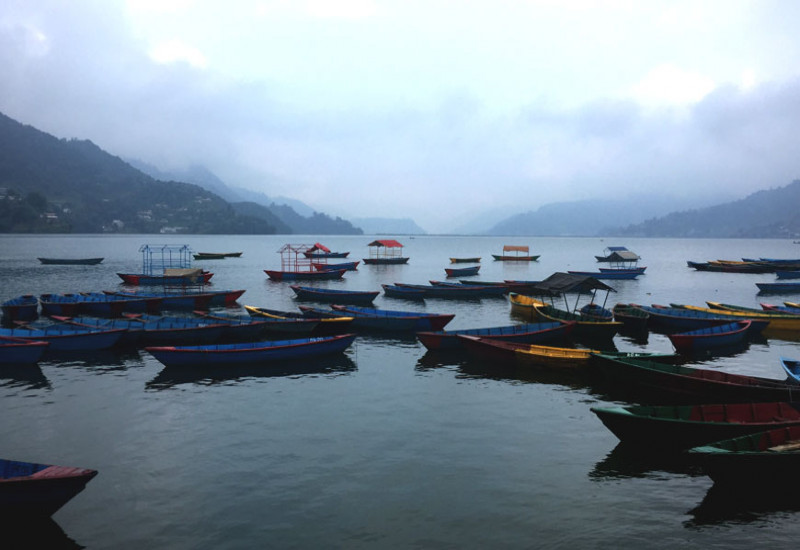 Pokhara is a city of beautiful lakes nestled in the Annapurna mountain range. It is a traveler's paradise. Pokhara is a popular tourist destination in Nepal, thanks to its lush green forests and stunning scenery. Every year, thousands of local and foreign visitors rush to the valley to experience nature's mesmerizing beauty and a light touch of mysticism. Pokhara is a famous tourist destination because it boasts the gorgeous Phewa Tal Lake, and stunning mountain scenery, and is the starting point for many of Nepal's most renowned treks. In the vicinity, there are numerous fantastic one-day trips and short works. Some of Nepal's top river rafting excursions begin nearby. It's a nice laid-back, calm spot to spend some time.
It is located at 800m above sea level, near the 8000m Annapurna and Dhaulagiri mountain ranges, and has some spectacular views to the north. Machhapuchhare (Fishtail Peak), one of the world's most magnificent mountains, is just near to the city. Pokhara is much more than its laid-back appeal. It also has a thriving adventure-sports industry: it is undoubtedly the greatest paragliding location in the world and is bordered by white-water rivers. A unique exhibit honors the world-famous Gurkha soldier.

Day1 :
You will arrive at Tribhuvan International Airport on the first day. You will meet our representatives right here. You will learn more about your program and Pokhara. After that, you can take a vehicle to your lodging. The rest of the day is yours to prepare for the tour and explore Kathmandu at your leisure.
Day 2:
You will properly introduce yourself to your group's organizers and other participants in the morning. After finishing your breakfast, a driver will take you to Pokhara. As you make your way to Pokhara, you'll be treated to breath-taking vistas of the valley, the Himalayas, and the terraced fields below. Later, spend the night in Pokhara to remain warm.
Day 3:
Take a dawn excursion to Sarangkot and take in the breathtaking scenery. Return to the hotel and have a hearty breakfast there. The morning will include a scenic tour of the town and boating on Fewa Lake. Following the trip, you will return to your hotel for a cozy night. In the meantime, you may stroll in the streets of Pokhara.
.
Day 4:
Following breakfast at the hotel, you will go on a sightseeing trip to the worldwide museum and caverns. Make the most of your free time by going shopping. There are several sights to visit and activities to participate in Pokhara. You may eat at one of the lakeside restaurants, which provide a variety of diverse continental cuisines. Spend the night at the hotel.
Day 5:
Get up early in the morning and have a hearty meal. After breakfast, you may have time to do some sightseeing, relax, or visit one of Pokhara's coffee shops. Later, the enjoyable tour concludes with a departure to Kathmandu while enjoying the view of Pokhara. You can either walk about Kathmandu or relax in your hotel. Start your journey from Kathmandu to your hometown. You'll return home with vivid memories of Pokhara's breathtaking beauty.

4 nights 5 days Package: US$400
Cost Includes
Accommodation (room and food)

Transportation

Guide
Weather of Pokhara
Although the city has a subtropical humid climate, the elevation keeps temperatures moderate. You must choose your time of travel to Pokhara wisely since each season offers a different experience. The region has a wide range of weather patterns all year long, including blustery winds, copious rains, and very cold winters. The sky is frequently bright, sunny, and cloudless. Here, summer lasts from the end of June until the end of September. The nights are brisk and blustery. As a result, Pokhara excursions are thrilling and exciting.
Altitude of Pokhara
An expansion of the Seti Gandaki valley in the Himalayan area, Pokhara is located in the northwest corner of the Pokhara Valley. The height in this area varies from 1,000 to 7,500 meters in less than 30 kilometers (19 miles) due to the rapid ascent of the mountains (3,300 to 24,600 feet). The region around Pokhara experiences some of the greatest precipitation rates in the nation as a result of this abrupt elevation change. Even inside the city, the north and south experience significantly different amounts of precipitation: The northern area along the foothills of the mountains receives a disproportionately larger quantity of precipitation.
Packing advice for Pokhara
Packing is one of the least pleasurable aspects of traveling and packing for a trip to Pokhara may be especially difficult. You'll need more than a few t-shirts and swimsuits for such a wide range of heights, temps, and activities. Because the weather might change dramatically throughout the year, you should constantly be conscious of the season you're traveling in. However, unusual weather is nothing new in Nepal, so be prepared for the unexpected. We've developed a Nepal packing list based on our expertise and local advice to assist you to load your luggage with necessary items so you're not caught short during your Nepalese vacation.
Cultural Advice for Pokhara
The people that live in the region are made up of a variety of various native tribes. The Gurung, Magar, and Newar are the biggest of these tribes. Another significant population in this city is Tibetan refugees who fled persecution in their own country. The people that live in the region are made up of a variety of various native tribes. The Gurung, Magar, and Newar are the biggest of these tribes. Another significant population in this city is Tibetan refugees who fled persecution in their own country. Visiting a monastery, speaking with a Buddhist monk, and participating in ritual chanting. Boating, trekking, rafting, canoeing, and bungee jumping are among the many adventure culture in Pokhara.
Communication in Pokhara (phone, internet)
There are several ways to maintain communication when traveling. None of them will function in the same manner as they do at home, which should be an adequate warning. However, up to a certain height, virtually every lodge has internet access. Depending on where you are, they cost charge each hour. All around Nepal, 4G service is offered by Ncell and other Nepali telecom companies. Due to different ISPs, Wi-Fi is essentially available everywhere else along the ascent. Visit ISPs' websites to learn more. Some of the hostels and stores along the route, according to their website, give usernames and passwords.
Money and Currency in Pokhara
In Pokhara, there are several money changers around Lakeside. So, swapping money wouldn't be an issue. The money changer's exchange rates are consistent throughout. Yes, you may also exchange money at banks. In Nepal's largest cities, banks may be found just about wherever. Banks provide somewhat better conversion rates than money changers, but more paperwork is involved. Don't forget to bring your passport. Even a copy of your visa is required. Verify that you were given the correct sum. It is always important to thoroughly review the received amount. Importantly, the Nepalese currency is used during the transaction.
Health tips for travelers in Pokhara
While traveling, you should take care of your health. You will undoubtedly be provided nutritious meals on your tour, but you must take responsibility for your own health. You will discover a lot of street food in Pokhara; avoid eating it. Consume meat only if you are well aware of it. If you are having problems with your normal diet, please contact our representative. You might also ask the host family to prepare supper for you. You should carry your medications with you because some pharmacies may not have the appropriate medications.