Kathmandu Tours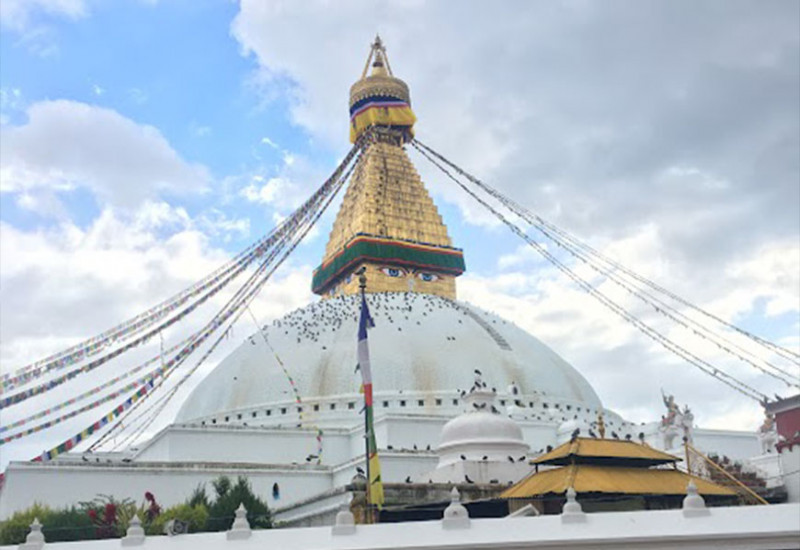 A journey to Kathmandu would be the ideal fusion of cultural modernization and functioning as the proud home of the ancient Newar culture. The valley that surrounds the capital of Nepal is home to several historical landmarks, medieval temples, shrines, and intriguing villages. Meet residents and animals while admiring the monuments in Durbar Square, or join mountain hikers in the crowded Thamel District. Visit stores to find magnificent creations made by regional artists; paper prints and carpets are highlights. The exciting journey that travels through historical and recognized heritage places is what the Kathmandu city tour will take you on.
The historic structures, temples, palaces, and streets of the city allowed visitors to experience life in antiquity. And discover the diverse culture and way of life of Kathmandu's natives. This will guide you through Kathmandu's numerous cultural insights and attractions. Three medieval periods of Malla states are represented in the Kathmandu Valley. You may schedule this vacation to take place either before or after a long trek in Nepal. A trip to the Kathmandu Valley offers you a singular opportunity to explore centuries of art and culture. Kathmandu is known as the "City of Devotees" and is full of temples and stupas. The Kathmandu Valley is more than just the capital city, and if you have the time to explore a little, you can discover plenty of off-the-beaten-track locations around the valley and in the hills that surround it.
Day1 :
The flight into the Kathmandu Valley is breathtaking, offering views of the Himalayas and the terraced valley level. One of our employees will meet you when you arrive at Tribhuvan International Airport and drive you to your accommodation. You may have time to tour the city depending on your arrival time. One of the most well-known attractions is Kathmandu's Durbar Square, with its little stores, historic temples, and neighborhood eateries. Swayambhunath Temple is another option, and from there you can watch the sunset over the valley and the Himalayas to the north.
Day 2:
You will be picked up by a tour guide after breakfast at your hotel for a full-day tour of the Kathmandu Valley, stopping at three holy sites: Swayambhunath, Pashupatinath, and Patan Durbar Square. Although there is a lot packed into this day, it doesn't overburden you with sights, helping you to make the most of your time in Kathmandu. Since this is a private trip just for you, you can spend as much time as you wish at each temple, but most visitors choose to stay for an hour.
Day 3:
You'll take an early-morning flight about an hour to visit Mount Everest and other impressive peaks in Nepal before breakfast. It is a breathtaking trip that travels to Mount Everest and back via the Himalayan range in the east. After being picked up from your hotel and transported to the domestic airport, you'll return just in time for breakfast. During the journey, you may observe well-known peaks like Shisha Pangma, Cho-Oyu, Nuptse, and eventually Everest by gazing out the left side of the aircraft. You might choose to go on a guided trip to some of the well-known cultural landmarks in the Kathmandu Valley.
Day 4:
It's time to bid Nepal adieu. Enjoy one more breakfast at a café, a stroll through the city, and/or some souvenir shopping to cap out your time in Kathmandu. When you arrive at your hotel, a representative will pick you up and take you to the airport in time for your flight home. It's a good idea to arrive at the airport at least two hours before takeoff.
3 nights 4 days Package: US$ 400
Cost Includes
Accommodation (room and food)

Transportation

Guide
Weather of Kathmandu
The city is situated in a valley with steep sides, therefore the temperature is mild. The city has a variety of climatic seasons, each of which offers a distinctive experience. The autumn, which lasts from October to February, offers a great climate with average temperatures of 25 degrees Celsius. Temperatures might exceed 36 degrees Celsius from March through June. The monsoon season, which normally lasts from late June through September, replaces the hot, humid days. The harsh winter in the northern hemisphere then begins in October.
Altitude of Kathmandu
On its east-west axis, Kathmandu Valley is slightly oval in shape, measuring 25 kilometers long and 19 kilometers broad. It is situated in central Nepal's lower Himalayas. The valley is around 1350 m above sea level on average. Because of its eastern position, which is typically damp in the summer and frigid in the winter. The area is teeming with swift, steep rivers that flow from the Himalayas through the hills of Kathmandu and eventually into the city. As a result, Kathmandu has stunning scenery of hills and mountains since its topography is immediately below the highlands and Himalayas, making it an ideal site for hiking.
Packing advice for Kathmandu
Packing is one of the least pleasurable aspects of traveling, and getting ready for a trip to a chilly, hilly locale may be particularly difficult. You'll need more than a few t-shirts and swimming suits for the wide range of heights, temps, and activities. Travelers should constantly be mindful of the season they are visiting because the weather can vary greatly from one season to the next. However, unusual weather has occurred in Nepal previously, so be prepared for anything. We've put up a Nepal packing list based on our expertise and suggestions from locals to help you pack everything you'll need for your trip to Nepal and ensure that you won't run out of supplies.
Cultural Advice for Kathmandu
The inhabitants of the region are mostly from the Magar, Tamang, and Newar aboriginal tribes. These tribes are primarily composed of Newars. Their culture is really vibrant. They adhere to a variety of dietary, societal, and festive customs. Traditions, customs, historical landmarks, and temples make up Kathmandu's primary sources of tourism. The dance Lakhe Nach (Stick Dance), jatras like the Rato Machhindranath chariot, and distinctive cultural festivals like Dashain & Tihar are some of the well-known aspects of their culture. Additionally, the region is well-known for its distinct steep farming culture.
Communication in Kathmandu (phone, Internet)
When traveling, there are several methods to stay in touch. There should be enough notice that none of them will behave the same way as they do at home. But almost every lodge has access to the internet up to a certain height. They have hourly rates that vary depending on where you are. Ncell and other Nepali telecom businesses are providing 4G service nationwide. The rest of the way up the slope, thanks to several ISPs, has Wi-Fi practically everywhere. To discover more, go to the ISPs' websites. On their website, a few of the lodging facilities and shops along the way provide usernames and passwords.
Money and Currency in Kathmandu
The capital city of Nepal has a variety of money changers available on most of its lanes. Therefore, swapping money would be easy. The money changer's exchange rates stay constant throughout. You are allowed to exchange currency in a bank. In Nepal's largest cities, banks are virtually everywhere. Banks provide somewhat better conversion rates than money changers, but more documentation is necessary. Please don't forget your passport. Additionally, a copy of your visa is required. Verify that you received the appropriate amount. It is important to accurately assess the amount received at all times. The transaction involves the use of Nepalese currency, which is important.
Health tips for travelers in Kathmandu
You should take good care of your health when traveling. On your trip, you will surely receive wholesome meals, but you are still responsible for your own health. In Kathmandu, you will find a lot of street cuisine; do not consume it. Only consume meat if you are knowledgeable about it. Please get in touch with our representative if you are experiencing issues with your regular diet. You might also request that the host family make you supper. Because some pharmacies could not have the necessary prescriptions, you should always bring your medications with you.