Chitwan Tours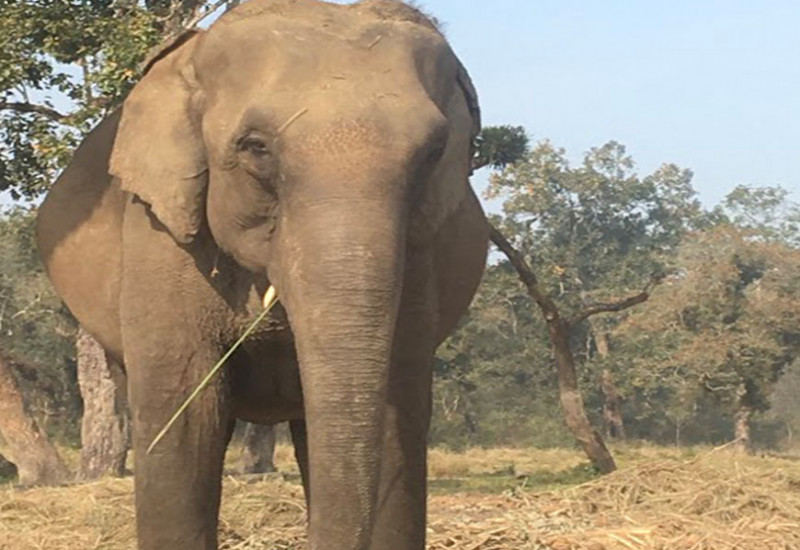 Chitwan is a popular destination for Nepali adventurers and wildlife enthusiasts looking to discover the jungle safari and Tharu culture of Chitwan. Chitwan Forest Safari comprises an elephant ride or a vehicle safari in the jungle. This is a fascinating method to safely explore the jungle's species in their natural habitat. It also provides a close-up view of a one-horn rhino in its native environment. A variety of deer, langur monkeys, wild boars, and other animals may also be present. Over 400 bird species, either permanent inhabitants or migratory visitors, may be seen on foot in the jungle and open grassland as part of a Chitwan adventure trip on bird watching and jungle walking excursions.
Chitwan National Park was named a Natural World Heritage Site by UNESCO in 1984. As a result, this is a wonderful opportunity to go on a peaceful Chitwan wildlife safari tour. In fact, it may be integrated with our Himalayan hiking and peak climbing adventures. Without a question, the Chitwan Jungle Safari is one of the most popular wildlife adventure trips in Nepal. Chitwan's main attractions are the One Horn Rhino and the Royal Bengal Tiger, whose favorite playground it is. Chitwan offers a variety of jungle safari activities such as Rapti River Canoe Ride, Bird Watching, Jungle Walk, and many more. an in the evening
Day1 :
On the first day, you'll fly into Tribhuvan International Airport. Our representatives will be waiting for you right here. You will be given orientation about Chitwan and your program. After that, you may drive to your accommodation. You have the remainder of the day to get ready for the tour and leisurely stroll about Kathmandu. We will fly or take a bus to Chitwan in the evening.
Day 2:
Our personnel will meet you when you arrive at Sauraha Bus Park, Tadi, or Bharatpur Airport. After that, you will be driven to our resort, where you will be given a briefing on its amenities and served refreshments. Your room will then be assigned to you when you get your daily schedule. You may discover more about the Tharus' way of life by taking a village tour of a local ethnic Tharu hamlet. You can explore a tiny portion of the Chitwan National Park in your leisure time as there isn't enough time to see everything in Chitwan.
Day 3:
The next day, you'll go on a Jeep Safari. Inside the National Park, 4-5 hours. You will be paddling down the Rapti River in a canoe. You get a fantastic chance to see birds and see uncommon species of crocodiles. The Marsh Mugger and the fish-eating Gharial will be the final attractions of the day. Then, as you make your way back through the bush, you may enjoy seeing an elephant bathing.
Day 4:
We'll head to the Government Elephant Breeding Center after breakfast. We'll ride an elephant later as part of an Elephant Safari. The chance to observe four distinct species of deer, rhinoceros, wild boar, monkey, leopard, sloth bear, and the Royal Bengal Tiger is outstanding (If you are lucky). Numerous smaller animals that call Chitwan home can also be found there.
Day 5:
Get up early and have a hearty breakfast. You may have time after breakfast to go sightseeing, rest, or visit one of the places in Chitwan. The excursion closes with a departure to Kathmandu while admiring the scenery of Nepalese Chure. You have the option of exploring Kathmandu on foot or relaxing at your hotel. Begin your travel to your home town from Kathmandu. You'll have strong recollections of Chitwan's stunning splendor when you return home.
4 nights 5 days Package: US$300
Cost Includes
Accommodation (room and food)

Transportation

Guide
Weather of Chitwan
There are several climatic seasons in the park, each of which gives a unique experience. With average temperatures of 25 degrees Celsius, the autumn season, which lasts from October to February, offers a wonderful climate. From March to June, temperatures can rise beyond 40 degrees Celsius. The hot, muggy days give way to the monsoon season, which typically lasts from late June to September. Roads become inaccessible, as rivers overflow. In order to meet their own requirements, locals are allowed to pick thatch grasses in late January, which enables tourists to observe more animals. When migratory birds congregate with local birds in September, November, February, and April, excellent opportunities for bird watching the result. The bulk of trees blossoms in late winter, while the monsoon rains generate lush greenery.
Altitude of Chitwan
The Nepalese Terai place is close to the subtropical lowland. The height above sea level varies from 110 to 850 meters. The Rapti and Narayani Rivers, the Parsa Wildlife Reserve, the Madi villages, and the India border form the park's northern, eastern, and southern boundaries. Due to its location on the eastern side, which is often rainy throughout the summer, the area is highly green and serves as a habitat for the species. The Terai and the Siwaliks make up the park's physiography. The park's primary water sources are the three major rivers Narayani, Rapti, and Reu, as well as their floodplains, lakes, and pools.
Packing advice for Chitwan
One of the least enjoyable parts of traveling is packing, and preparing for a vacation to Chitwan can be particularly challenging. For such a broad range of heights, temperatures, and activities, you'll need more than a few t-shirts and bathing suits. You should always be aware of the season you're traveling in because the weather might change significantly throughout the year. However, Nepal has had odd weather before, so be ready for anything. Based on our knowledge and recommendations from locals, we've created a Nepal packing list to help you fill your suitcase with the things you'll need so you won't run out of supplies while visiting Nepal.
Cultural Advice for Chitwan
A number of different native tribes make up the population of the area. The bulk of these tribes is made up of Tharus. They have a very rich culture. Although they practice Hinduism, they have a little distinct culture from other Hindus. They follow diverse traditions for eating, living, and celebrating. The main source of tourism in Chitwan is their traditions and customs. Some of the well-known elements of their culture are the dances Danda Nach (Stick Dance), Ago Nach (Fire Dance), and Mayur Nach (Peacock Dance). The people cultivate their land peacefully and open their homes to visitors to increase their revenue.
Communication in Chitwan (phone, Internet)
In the same way that they do at home, which ought to be sufficient notice. However, almost every lodge provides internet connectivity up to a certain height. They charge depending on where you are each hour. Ncell and other Nepali telecom operators provide 4G service throughout the country. Wi-Fi is generally accessible everywhere else along the climb thanks to several ISPs. To find out more, go to the websites of ISPs. According to their website, several of the hostels and shops along the route provide usernames and passwords.
Money and Currency in Chitwan
There are various money changers around the park in Chitwan. So exchanging money would be simple. The exchange rates of the money changer remain stable throughout. Yes, you may exchange money in a bank. Banks may be located almost anywhere in Nepal's major cities. Banks provide somewhat higher conversion rates than money changers, but there is more paperwork required. Remember to bring your passport. A copy of your visa is also necessary. Check that you were given the proper amount. It is always critical to properly evaluate the amount received. The Nepalese money is utilized throughout the transaction, which is significant.
Health tips for travelers in Chitwan
You should take care of your health when traveling. Your journey will definitely include healthful meals, but you must take responsibility for your own health. In Pokhara, there is a lot of street food; avoid eating it. Consume meat only if you are fully aware of the risks. Please contact our agent if you are having trouble with your regular diet. You might also request that the host family make dinner for you. You should have your meds on hand since some pharmacies may not have the necessary drugs.